Trenching and Excavation
The Appalachian State University campus is currently operating under normal conditions.
Purpose
Excavations are recognized as one of the most hazardous construction operations. Excavations include any man-made cut, cavity, trench, or depression in an earth's surface, formed by earth removal. A trench is a narrow excavation in which the depth is generally greater than the width, but with the width (measured at the bottom) not greater than 15 feet. Safety practices and requirements are provided to assist University managers, supervisors, and other employees whose work activities include exposed cavities, trenches, depressions or excavations.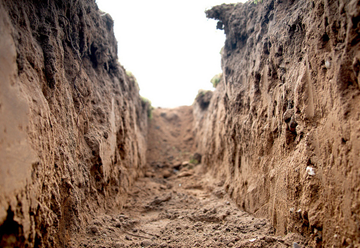 Objective
To provide trenching and excavation safety information to campus employees and in turn, comply with NCOSHA Subpart P, Excavation Standards, contained in 29CFR 1926.650, .651. and .652.
Responsibility
Supervisors and managers are responsible for training and insuring employees are safely protected from possible cave-ins, hazardous atmospheres, falling objects, and informed of the hazards associated with trenching and excavation operations prior to working in these areas. Employee training must include safe work practices, use of personal protective equipment, and procedures to be followed if a hazardous atmosphere or emergency condition occurs. Departments must maintain records of employee training, trench and excavation inspections and protective system inspections.
Safety Practices
Pre-plan the trenching, excavation operation to include safe work practices, hazard recognition procedures and soil determination/analysis tasks.
Receive appropriate training prior to working in excavations or trench sites. NOTE: The OSHA Construction E-Tool site includes a Trenching and Excavation training program.
Ensure all equipment and materials are in good, working condition.
Request and use appropriate personal protective equipment including hardhats, safety footwear, gloves, eye protection, hearing protection and fall protection devices as needed.
Prior to excavation, locate and mark underground utilities. Also, stabilize, support adjacent structures as needed, using shoring, bracing, or underpinning techniques.
Install barricades, fences, protected walkways and/or signs to protect the public and other campus users from the excavation site.
Identify and assign a "competent" person to be in charge of each excavation site. The competent person must receive training in identifying hazardous excavation and trenching conditions and have the authority to take corrective actions.
Insure the "competent" person inspects the excavation, trenching site on a daily basis and after every rain for the possibility of cave-ins, failures of protective systems and equipment, hazardous atmospheres, or other hazardous conditions.
Protect employees from possible cave-ins by either an adequate sloping, benching, shoring system or an adequate support or protective (e.g. trench box) system. Shore the sides of the excavation with timber or other materials to ensure the earth does not collapse on employees. As an option, slope the sides of the excavation to reduce the "overburden" (weight and pressure exerted by large amounts of soil on the sides. NOTES: When damp soil is exposed to air during excavation tasks, it can dry out and lose the ability to stand on its own, increasing the risk that it will slide into the trench. Other factors, such as proximity to highways, large machinery, back-filled areas, or existing structures can affect soil stability as well.
Provide convenient, easy to use stairs or ladders for employee use at excavation, trench sites over 4 feet deep.
Provide a means of exiting the trench every 25 feet.
Discourage surface crossing of trenches.
Keep employees away from equipment or vehicles loading or unloading materials.
Protect employees from loads or objects falling from lifting or excavating equipment.
Keep excavated material (spoil pile) and other items at least 2 feet or more away from the edge of the excavation, trench site through use of retaining devices. Where not possible, spoils may need to be temporarily hauled to another safer location.
Keep rocks, soil, equipment and other materials from falling into the trench.
Prevent water accumulation whenever possible.
Test excavation, trench sites for oxygen deficiency or the presence of other hazardous atmospheres prior to entry.
Do not permit employees to enter or work in trenches containing hazardous atmospheres without adequate controls. Monitor trenches containing hazardous atmospheres on a regular basis. Take appropriate actions to reduce the presence of hazardous conditions or remove employees as needed.
Keep excavations, trenches open the minimum amount of time needed to complete work tasks.
Evaluate the excavation and trenching operation at the conclusion of the work activity. Incorporate evaluation results in future pre-plans and planning sessions as needed.