Safety Shoes
The Appalachian State University campus is currently operating under normal conditions.
North Carolina Occupational Safety and Health standards require that each affected employee wear protective footwear when working in areas where there is danger of foot injuries due to falling or rolling objects, objects piercing the sole, or where such employee's feet are exposed to electrical hazards as documented by a personal protective equipment hazard assessment. As of 7/1/2019 the Office of State Budget and Management (OSBM) has set the safety toe shoe reimbursement rate at $125 per employee per year.
Employee Purchase Procedures
The University will reimburse an employee for the purchase of approved protective toed safety shoes when they are a requirement of the job, based on the supervisor's hazard assessment of the employee's worksite. Check with your supervisor or refer to the App State Safety Requirements for New Employees list (posted on the EHS&EM Office website). No more than one pair of safety shoes can be reimbursed in a twelve (12) month period at the current rate of $125.00 per pair (established by the Office of State Budget and Management). Costs in excess of $125.00 are the responsibility of the employee and must be paid at the time of purchase.
An on-site safety shoe vendor will be scheduled to assist employees with safety shoe selection, fitting, and purchasing procedures. Advance notice of scheduled safety shoemobile visits and posters will be distributed to campus departments.
Employees who are unable to purchase protective toed safety shoes from the on-site vendor may purchase approved footwear from a vendor of their choice and be reimbursed by their department up to the current rate of $125.00. Approved footwear must meet current ASTM standards - "ASTM" should be visible on the tag under the tongue (see example via the link below).
Protective footwear is the responsibility of the employee. Shoes that are lost, stolen or damaged unrelated to the employee's job must be replaced at the employee's expense.
New Employees Hearing Test and Safety Shoes
It is required that certain employees at Appalachian State University meet established safety procedures, which include hearing tests and safety shoes. Below you will find a brief description for each of these programs and a list of personnel by classification or department who must participate in each specific program. The supervisor of identified employees has the responsibility to insure that all requirements are met by these employees within established time frames.
Read this important information about hearing test and safety shoes for certain employees on campus.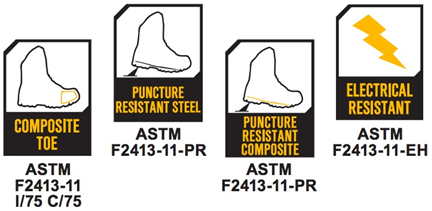 Have Questions?
Contact the EHS&EM Office at 4008 if you have questions regarding protective footwear.
Refer to the following sources for additional information on safety shoes: